Welcome to
ConnectEd Studios
ConnectEd Studios is the one-stop online hub for Linked Learning. The platform helps support project-based learning and authentic assessment, as well as provides tools and resources for the entire Linked Learning field.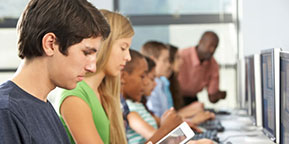 Learn About Studios
Access the Demo PlaySpace and explore many of the core features on Studios. There's already pre-populated content so feel free to pop in and play around!
Studios Spotlight
The Hunger Games Challenge is an engaging project that applies the premise of the book to real-world dilemmas and grand prizes will be awarded for the best student work.
Day in the Life
Victoria Sun describes her experience as a software engineer and as a woman in the technology industry. Watch the Day in the Life video to learn about her challenges and accomplishments as well as her insights on her career path.