This report on the California Partnership Academies (CPAs) reveals promising results for student performance across a range of important outcomes, most notably graduation rates for seniors, and completion of the "a-g" courses.
Read more
Rochelle Treger has a smile and a word of encouragement for each of her students as they walk into her student-teaching seminar at San Diego State University, straight from their own demanding stints in local public schools.
Read more
Video: Linked Learning Credential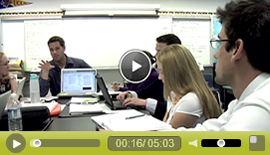 Teacher preparation institutions across the state are preparing Single Subject teachers for Linked Learning schools and programs. This video highlights the program, as well as two aspiring teachers at Sacramento State University.
View the video